No one should miss out on holiday traditions.  But families with food allergies are hesitant to participate in activities that revolve around food, particularly baked goods.  Baked goods are often cross-contaminated with nuts and typically contain dairy and eggs – three of the top eight allergens responsible for 90% of allergic reactions.
Now with the options below, there's no reason to sit out the holidays!  Check out these allergy-friendly gingerbread house ideas.  Everyone can gather together and decorate a gingerbread dream home safely!
BUY IT!
A&J Bakery's Allergen Friendly Gingerbread House
If you're lucky enough to live in Rhode Island, you might want to pop into A&J Bakery to grab their Allergen Friendly Gingerbread House Kit.  Otherwise, you'll want to place an order now!  In addition to being vegan, these gingerbread houses are free from peanuts, tree nuts, sesame, gluten, wheat, soy and dairy.  The kit comes with the house (assembly required), five different types of allergen-friendly candy to decorate it with as well as some non-edible decorations.
Finally, a Chanukah-themed house!  Manischewitz's Chanukah House is made with vanilla cookie (a preferred flavor in my house).  Plus, it is nut-free, dairy-free and egg-free!  We have used this kit and it couldn't be easier to put together and the walls are very sturdy – it surely could survive a candy hurricane (or a not-so-gentle little sister)!
MAKE IT!
There are all kinds of ways to make gingerbread houses using milk cartons, like we did in elementary school.  Let's face it: the decorating is the best part of this experience anyway!  Gather up some small, individual-sized orange juice/milk cartons (*remember to wash the carton thoroughly before using if you are allergic to dairy*).   Cover the cartons in brown paper and decorate by gluing on safe candy, buttons, cotton balls, pipe cleaners, glitter – anything goes!  You can also paint on windows, embellishments.  Follow this great guide idea from Crafts by Amanda. You can make a whole village and even add trees cut from cardboard decorated!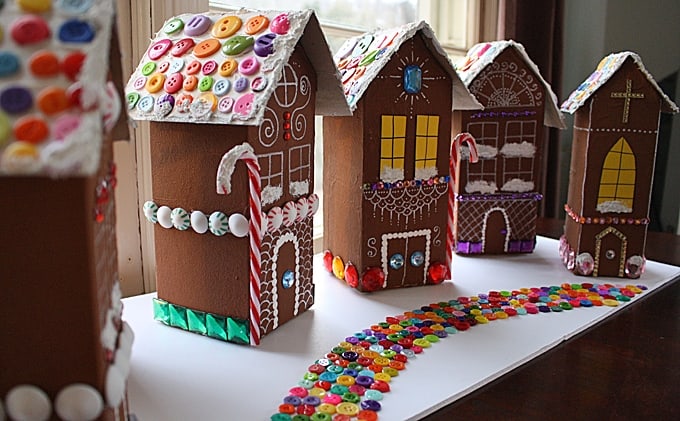 Did you know that LEGO has a Gingerbread House!  It's made of Legos, so it's guaranteed to be allergen-free!
Melissa and Doug Mess-Free Glitter Christmas Tree and Gingerbread House
Baby, it's cold outside!  Make today a craft day indoors with this foam decorating kit.  Kids can decorate it anyway they like without allergens OR mess!  A win-win for parents and kids alike!
If you're determined to make the edible kind, you can use these easy-to-work-with Silicone Molds to create consistent and detailed gingerbread house parts.  [See below for gluten-free recipe!]
Sweet Ali's Gluten-Free Bakery in Illinois has a great recipe posted along with How-To instructions for assembling a gluten-free gingerbread house.  Check it out!
A NOTE ABOUT ROYAL ICING and RECIPE:
Royal Icing (the kind used to stick candy to gingerbread houses) often contains egg.  But making royal icing is fairly easy and fun to do with kids.  Try this recipe:
2 cup *sifted* powdered sugar
4-5 tablespoons water
Combine sugar and 4 tbsp of water until smooth.  Continue adding small amounts of water until glossy and thick.
As I understand it, powdered sugar and water icings don't do well in pastry bags (for piping).  We usually use a knife to carefully line the edges of the house parts and paint them directly on to the candy before sticking them on to our houses.
(Thank you in advance! A portion of the proceeds of affiliate links go toward AllergyStrong.org – an organization aimed at helping at risk families with food allergies.)